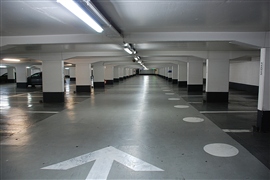 Public Areas
Objectives
** words related to public areas; ** and asking and answering questions related to the public areas of a hotel.
---
Reading
As a luxury Resorts associate, you need to learn to take care of appearance of the public areas. You should make sure that the decor in these areas is pleasant and that all areas of the hotel are cleaned and maintained . The grounds outside should be free of garbage, the trees should be trimmed, and the pots, plants, and pathways should be clean. You will need to be able to direct guests to the parking area, offices exits, entrances, elevators, lobby, and stairways.
Inside the resort, you will make sure all surfaces are clean. This includes the carpet, baseboards, furniture, glass, and mirrors. Check to make sure the lighting is working inside and outside the building. All the fire extinguishers should be in the proper places. Make sure the tiles, vents, and wallpaper in the restrooms, guestrooms,and hallways are not damaged or dirty. The last important task is to make sure the locks are activated after hours for the safety of the guests.
---
Grammar point
---