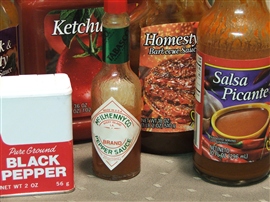 Banquet
Objectives
** words related to utensils and a banquet setup; ** asking and answering questions related to a banquet.
---
Reading
The banquet will host forty-six quests. It will begin at 10:00 a.m. , have a break at 11:30 a.m., and end at 2 p.m. The quest request that the room lights be set to normal and the temperature set at 72 degrees.
In the front of the room, there will be ahead table that will seat six quests. Use the black tablecloth and gold skirt cover the table. Set up the table with the two centerpieces that the quests have supplied, two pitchers of the water, two candy dishes, and six glasses, pads and pens. We need to place a flip chart and colored marker at the left side of the table,
Set up five round tables with eight chairs and each table. Use black tablecloth and set up each table with a centerpieces. Two water pitches, two candy dishes, and eight glasses, pads and pens.
At the 11: 30 break we will set up for lunch. Each table will need complete settings: napkins, silverware, plates, glasses, coffee cups and the standard condiments. Refill the water and take away any dirty glasses or garbage left on the tray set up around the room.
Breakdown will begin at 2:30 p.m. for the next set up. Remember to wear your back supports and to use the dolly when moving things.
---
Grammar point
---